Overview
Target Audience
RN, CNS, NP
Course Description
This course is designed to supplement study materials for the NCC certification exam to obtain the RNC-NIC designation and the AACN certification exam to obtain the CCRN-neonatal designation. The course will focus on core concepts that are essential for caring for high-risk newborns. Preparation is recommended prior to participation in this course.
Program Learning Outcomes
This program prepares the learner to:
Review the core components covered by the exam through test questions and lecture review.
Review requirements for the exam and recertification.
Contact Hours
---
ANCC Approved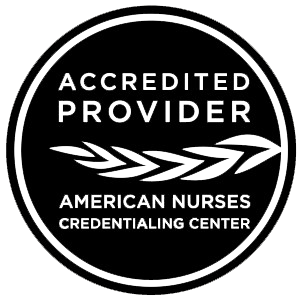 Contact Hours: 6.5
MED-ED, Inc. is accredited as a provider of nursing continuing professional development by the American Nurses Credentialing Center's Commission on Accreditation.
MED-ED, Inc. is an approved provider by the following State Boards of Nursing: Florida/FBN 50-1286 and California #CEP10453.
---
---
Speaker

---
Patti is the coordinator of the advanced practitioner group for Pediatric Medical Group in Nashville, TN, as well as the coordinator of the neonatal transport service at Centennial Medical Center, also in Nashville. She is an assistant professor of nursing at Vanderbilt University School of Nursing, teaching the Neonatal Nurse Practitioner and Doctor Nursing Practice courses. She is also a preceptor for NNP students in the clinical area.
Patti is a member of the National Association of Neonatal Nurses and the Academy of Neonatal Nursing. She is a regional trainer for the American Academy of Pediatrics' Neonatal Resuscitation Program and a national faculty member and lead instructor for the STABLE Program. Patti is also an affiliate member of the American Academy of Pediatrics' Section of Transport Medicine and Sigma Theta Tau National Nursing Honor Society. She has developed and continues to coordinate and provide numerous neonatal educational courses for staff.
Patti received her BSN in 1988 and her MSN with a specialty in neonatal critical care in 1993 from Vanderbilt University. She received her Doctorate in Nursing Practice from the University of Tennessee Health Science Center. She completed the National Certification Corporation's Neonatal Nurse Practitioner certification exam in 1993 and the Neonatal Pediatric Transport exam in 2009
---
Pass Guarantee
MED-ED is so confident in the quality of our programs and presenters, that we guarantee you'll pass your certification exam or you will receive a full tuition-refund.
We want you to pass! That's why to qualify for a refund, the exam must be taken within 35 days of the seminar date or On-Demand eLearning, DVD-ROM or Audio CD course purchase date.
To be eligible for the refund, your request must be postmarked or received by our office within 30 days of receipt of your Exam Score Report.
*Our Pass Guarantee is not offered for Institutional eLearning orders.
Questions?
Have Questions?

Office Hours
Monday - Friday, 8:00 am - 4:30 pm EST

By Email
CustomerCare@mededseminars.net

By Phone
Toll Free: 800-763-3332

Local: 704-333-1090

By Fax
704-333-5020

By Mail
MED-ED, Inc.

1911 Charlotte Dr.

Charlotte, NC 28203
Reviews
Overall:
4.6
Total Reviews: 34