Overview
Target Audience
RN, CNS, NP
Course Description
This seminar is designed to provide the healthcare provider with a comprehensive review of Psychiatric–Mental Health Nursing Principles. The principle objectives of the course include enhancing professional nursing practice in Psychiatric–Mental Health Nursing as well as providing an outline for nurses preparing for the Psychiatric–Mental Health Nursing Exam. The course follows the outline and core curriculum recommended by the American Nurses Credentialing Center (ANCC). Case presentations will be presented to enhance critical-thinking skills and enhance knowledge of evidence-based practice in psychiatric settings.
Program Learning Outcomes
This program prepares the learner to:
Pass the ANCC board examination.
Contact Hours
---
ANCC Approved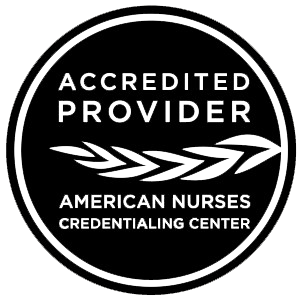 Contact Hours: 15
MED-ED, Inc. is accredited as a provider of nursing continuing professional development by the American Nurses Credentialing Center's Commission on Accreditation.
MED-ED, Inc. is an approved provider by the following State Boards of Nursing: Florida/FBN 50-1286 and California #CEP10453.
---
---
Speaker

---
Lisa is an associate professor and the associate director of the baccalaureate nursing program at Iowa Wesleyan University in Mount Pleasant. For 20 years, she has taught psychiatric-mental health nursing, focusing on both the theory and clinical aspects of coursework. She has been a psychiatric staff nurse for over 30 years at the University of Iowa Hospitals & Clinics in Iowa City, where she has been awarded for nursing education excellence. In this setting, she is involved in leadership committees and the nurse residency program, achieving gold level status for its professional nursing recognition program. Lisa has also functioned in the ARNP role at Optimae LifeServices in Mount Pleasant for nearly 20 years. In addition, she has served as president and board member for the Iowa chapter of the American Psychiatric Nurses Association (APNA) and has presented on its behalf at the state and national levels.
---
How to Register
Registration for this seminar is being handled through the hosting hospital.
Please download the brochure for more information or to register.
Questions?
Have Questions?

Office Hours
Monday - Friday, 8:00 am - 4:30 pm EST

By Email
CustomerCare@mededseminars.net

By Phone
Toll Free: 800-763-3332

Local: 704-333-1090

By Fax
704-333-5020

By Mail
MED-ED, Inc.

1911 Charlotte Dr.

Charlotte, NC 28203
Location Map
Pediatric Sleep Center - North

7250 Clearvista Dr., Indianapolis, Indiana 46256, United States
(317) 621-9820
www.ecommunity.com
Agenda
Day 1
Date/Time: Wed, Sep 28, 2022 - 08:00A to 05:00P (EDT)
Location: Community Hospital North Campus | 3rd Floor Multiservice Room


Contact Hours: 7.5

Topics Covered

ANCC Exam
Eligibility, About the Exam and Application | Why Become Board Certified? | Test-Taking Recommendations | Sample Questions and Components
Communication and the Nurse-Patient Relationship
Therapeutic Communication Skills | Barriers to Communication | Therapeutic Relationships
Evidence-Based Psychiatric Nursing
Assessment | Diagnosis | Outcome Identification | Planning and Implementation, Evaluation
Provision of Care
Scope of Practice for Psychiatric Nursing | ANA Code of Ethics | Legal Aspects of Psychiatric Nursing | Culturally Competent Care | Pain Management
Research
Research: Scope of Practice | Five Steps of Evidence-Based Practice | Ethical Considerations in Research
Disease Prevention, Health Promotion and Education
Theoretical Frameworks in Preventative Psychiatry | Levels of Prevention | Safety Issues | Patient Education, The Learning Process
Practice Questions
---
Day 2
Date/Time: Thu, Sep 29, 2022 - 08:00A to 05:00P (EDT)
Location: Community Hospital North Campus | 3rd Floor Multiservice Room


Contact Hours: 7.5

Topics Covered

Treatment Modalities
Behavioral Concepts and Strategies | Individual and Group Therapies | Family Therapy | Milieu Therapy | Alternative Therapies | Crisis Intervention | End-of-Life Care
Psychiatric Disorders
Mood Disorders | Suicide | Anxiety Disorders | Coping and Defense Mechanisms | Trauma and Stress Disorders | Obsessive-Compulsive Disorders | Schizophrenia | Other Psychotic Disorders | Neurocognitive Disorders | Feeding and Eating Disorders | Substance Use Disorders | Dissociative Disorders | Personality Disorders | Autism Spectrum Disorder | Intellectual Development Disorders | Disorders of Childhood and Adolescence | Sexual Disorders | Sleep-Wake Disorders | Somactic Disorders
Psychopharmacology
Pharmacokinetics and Pharmacodynamics | Terminology | Gender and Age Considerations | Anticholinergics | Antipsychotics | Antidepressants | Antimanics | Anticonvulsants | Beta Blockers | Anxiolytics | Sedatives | Psychostimulants | Cognitive Enhancers | Barbiturates | OTC Aids | Herbal/Complimentary Agents