Overview
Target Audience
RN, CNS, NP
Course Description
This seminar is designed to provide the healthcare provider with a comprehensive review of Psychiatric–Mental Health Nursing Principles. The principle objectives of the course include enhancing professional nursing practice in Psychiatric–Mental Health Nursing as well as providing an outline for nurses preparing for the Psychiatric–Mental Health Nursing Exam. The course follows the outline and core curriculum recommended by the American Nurses Credentialing Center (ANCC). Case presentations will be presented to enhance critical-thinking skills and enhance knowledge of evidence-based practice in psychiatric settings.
Program Learning Outcomes
This program prepares the learner to:
Pass the ANCC board examination.
Contact Hours
---
ANCC Approved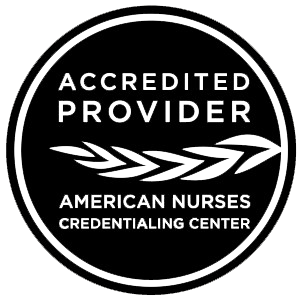 Contact Hours: 7.5
MED-ED, Inc. is accredited as a provider of nursing continuing professional development by the American Nurses Credentialing Center's Commission on Accreditation.
MED-ED, Inc. is an approved provider by the following State Boards of Nursing: Florida/FBN 50-1286 and California #CEP10453.
---
---
Speaker

---
Dr. Panozzo has been a nurse since 2004. She received her DNP in executive leadership from Rush University, MSN in nursing administration from Aurora University and BSN from the University of St. Francis. She is board certified in psychiatric and mental health nursing and is a certified nurse educator.
Dr. Panozzo specializes in psychiatric nursing and has worked in residential, inpatient, home health and hospice settings. She also served as a quality and performance improvement director of a home health agency and assisted in the development of a hospice organization. Her experience in academic settings includes teaching psychiatric nursing rotations and numerous courses from the ADN to DNP levels, course development and revisions, and writing and updating standards for accreditation purposes.
She has researched and published with a focus on the schizophrenic population and therapeutic relationship development. She also provides consulting services to home health and hospice companies to improve their metrics and assist with policy writing and development, as well as the accreditation process, including on-site visits/surveys. In addition to speaking at numerous conferences and presenting posters at various events, she has provided didactic teaching in nurse residency programs.
---
Pass Guarantee
MED-ED is so confident in the quality of our programs and presenters, that we guarantee you'll pass your certification exam or you will receive a full tuition-refund.
We want you to pass! That's why to qualify for a refund, the exam must be taken within 35 days of the seminar date or On-Demand eLearning, DVD-ROM or Audio CD course purchase date.
To be eligible for the refund, your request must be postmarked or received by our office within 30 days of receipt of your Exam Score Report.
*Our Pass Guarantee is not offered for Institutional eLearning orders.
Questions?
Have Questions?

Office Hours
Monday - Friday, 8:00 am - 4:30 pm EST

By Email
CustomerCare@mededseminars.net

By Phone
Toll Free: 800-763-3332

Local: 704-333-1090

By Fax
704-333-5020

By Mail
MED-ED, Inc.

1911 Charlotte Dr.

Charlotte, NC 28203
Reviews
Overall:
Not yet rated
Total Reviews: 32